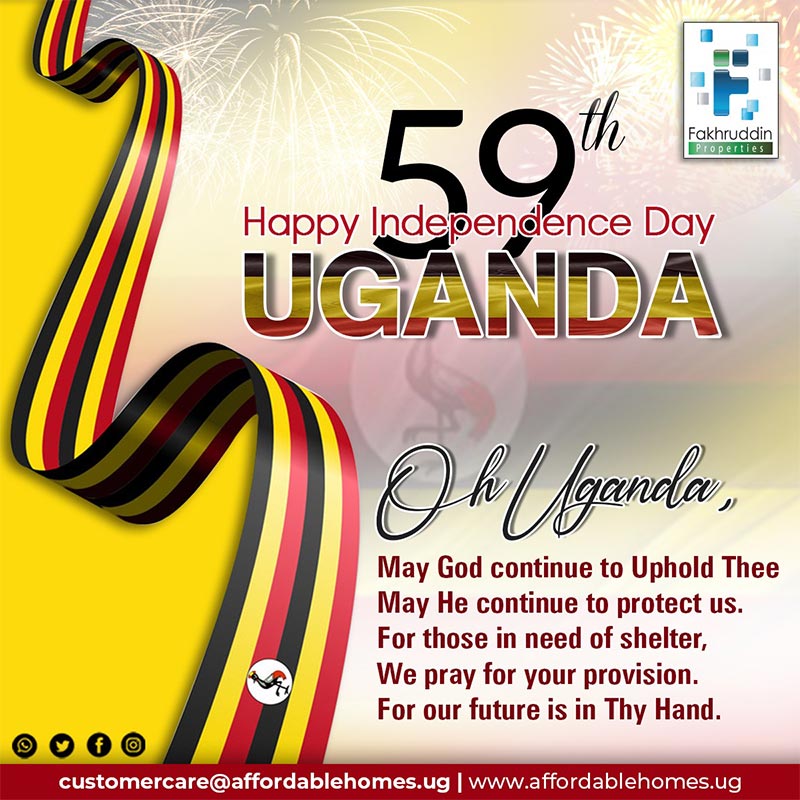 As the 59th Independence Day in Uganda is celebrated this October 9th, Fakhruddin Properties uses this opportunity to look back at its journey of playing its role in contributing to the Ugandan infrastructure.
Recognizing the need of superior quality housing in Uganda, Fakhruddin Properties which has been a leading name in property development within the UAE region, made its advent into the Ugandan market in the year 2016. In the last 5 years the name has become synonymous with trust and quality as it masters the art and intricate science of planning and building industrial, commercial and affordable, luxury residential properties.
Our motto remains
"Oh Uganda,
May God continue to Uphold Thee
May He continue to protect us.
For those in need of shelter,
We pray for your provision.
For our future is in Thy Hand."
With successful projects like Tansy Avenue, Orchid Rise, Iris Gardenia, Lily Heights, Lotus Vicinia, Bella Rosa Homes, Jasmine Courts, Hazel Residency and Tulip Towers, Fakhruddin Properties has done its best to make the vision of a modern Uganda a reality. Representing Uganda in several international real estate fairs and seminars, it has also been a winner for the third time of the Residential Development Award for Uganda.
Log onto the Fakhruddin Properties website to take a look at our projects or book an appointment with our sales team to be informed about our upcoming luxury residential projects like Mayfair Vistas.